---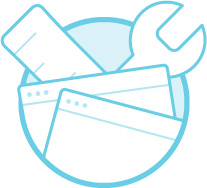 Online Developer And Consultant
We ready to be your developer and consultant for Online Aspect of your business.
Maintain & Develop
We help you maintain and develop your business to grow-up
Google PLay
Kami Membantu Publish Apps dan Webs anda melalui google play.
Form Builder
Kami menyediakan fitur pembentukan form baik simple sampai complicated.maupun fitur2 lainnya yang disediakan oleh plugin proffesional di codecanyon.net
Drop Me A line
Silahkan Contact kami untuk mengetahui info layanan kami lebih lanjut, terimakasih.
Contact Us